"Where Can I Buy Such a Laser?" ISI-Amazon Program Exposes Underrepresented Students to STEM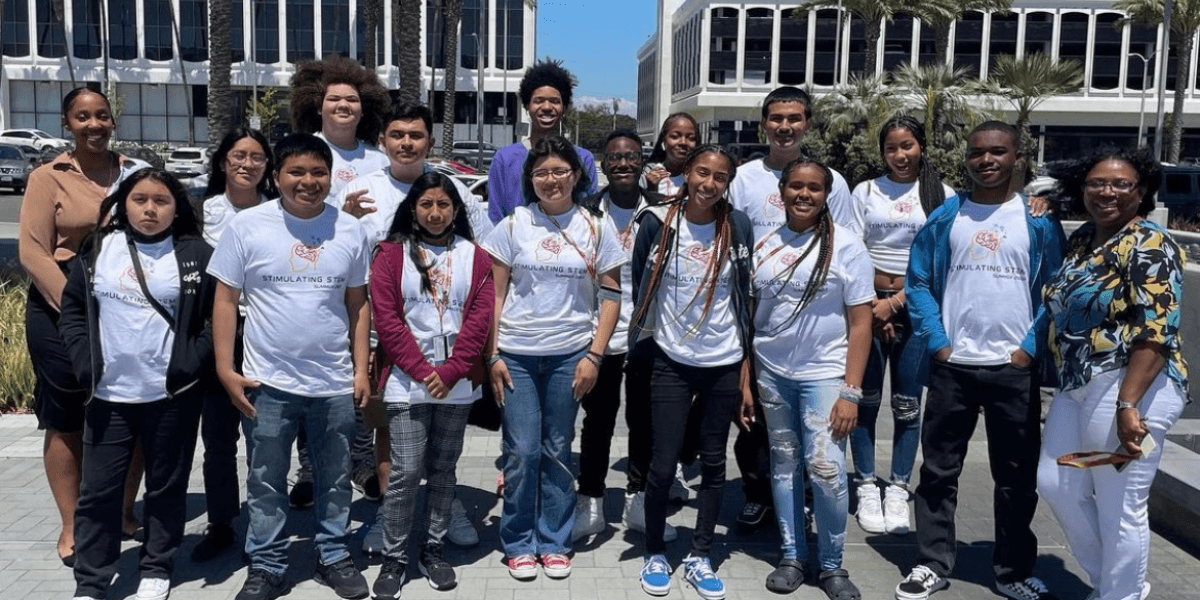 USC's Information Sciences Institute (ISI) and Amazon joined forces to deliver a four-week summer program that exposed underrepresented high school students to several topics within STEM. Named Stimulating STEM, this 2022 edition is the first of its kind and currently the only free residential summer program at USC.
Owing to a grant provided by Amazon, the program comes at no cost for its participants, easing financial barriers to access.
The program, which ran from June 20 to July 18, was led by Jamani King and Lisa Bland under the ISI Diversity, Equality, and Inclusion Initiative, and started with some words of wisdom.
"Meet people, converse, engage with the researchers and faculty members you will encounter," said King at the orientation, "because locking in those connections now can help you along your education and career path."
Students were immersed in a number of research areas within STEM, such as robotics, coding, artificial intelligence, cybersecurity and space engineering. In many cases, they were able to apply their knowledge to something practical, like building a robot out of LEGO bricks and connecting it to a battery to put it in motion. These hands-on learning tactics proved to be the most engaging, with students frequently coming to ISI's headquarters in Marina del Rey, away from USC's main campus in Los Angeles. They toured and interacted with the cutting-edge technology housed in the building. 
Lasers, Satellites, Collisions and More!
The high schoolers received instruction from some of ISI's most distinguished faculty, such as space engineer David Barnhart, director of the Space Engineering Research Center at ISI.
Under Barnhart's guidance, they were able to engage with ISI students, faculty and technology and ask questions about space systems. Barnhart knew how to catch the attention of this young crowd. The mention of "a gripper that looks like an octopus" and "a special laser" got all the participants to take note. "Where can I buy such a laser?… for a friend, of course," joked a student. Barnhart also showed a replica of the satellite he built with his team and sent into space last January.
The students were also fascinated by the story of a satellite collision and the cloud of debris that resulted. "If we don't clean it up, the particles stay in space for thousands of years because there is no external force to push them away," described Barnhart in front of a speechless group. 
Zero Gravity but Lots of Fun
The affectionately-named "hockey table" – a surface used to simulate a zero gravity environment – proved to be especially exciting, as was the need to wear safety glasses when interacting with it. Using the remote, the students took turns operating the machine and watched it glide across the zero-gravity table. Helping Barnhart lead the discussion were ISI students, eager to answer any questions the high school students had. 
Such stimulating exposure to fields and technologies, which would not have been otherwise accessible to these students, have increased their awareness of future career possibilities. "I wanted to do civil engineering but now I think I want to do aerospace engineering," noted 17-year-old Linette after an especially exciting talk about space systems and aerospace technology with Professor Barnhart.
More Than Just Academics
In addition to academics, the students were also able to experience other aspects of university life at USC by staying in student housing, studying at the USC Viterbi School of Engineering's Olin Hall of Engineering and eating at the dining hall.
"I was very pleased with the program and staff," noted Shenell Glover, the mother of Marcus, one of the program's participants. "This program was well organized and offered participants the opportunity to explore various STEM focuses and life on campus."
The program worked to create a strong sense of community and trust among the students via team and leadership building activities that started at orientation and continued throughout the four weeks. Social activities were present as well, with the group celebrating Fourth of July together. By the end of the four weeks, the students were a closely-knit group of friends, bonding over shared tech and engineering interests.
Exposure to its campus, faculty and students has also made USC an exciting prospect for the program participants. "Marcus is very anxious to start his career in STEM and hopefully attend USC after this program," explained Glover.  
Perhaps one of the most pivotal effects of Stimulating STEM, though, is the increased confidence the students have in themselves. When asked how this program has helped define her future goals, Linette stated: "before I was just thinking of getting my bachelor's, but the program has made me want to pursue a master's degree."
This newfound self-confidence and passion for STEM is shared by many of the students who participated in the summer program. "By the conclusion of the program, 85% of our students stated they see themselves pursuing a career based in STEM and 100% of our students stated they had fun and were inspired by the program," explained King, the program's creator and director. With the objective of becoming an annual summer program, Stimulating STEM will continue to grow and expand, inspiring underrepresented students to explore and pursue careers in STEM.
Published on August 4th, 2022
Last updated on August 11th, 2022